Increase Customer Acquisition with Corporate Gifting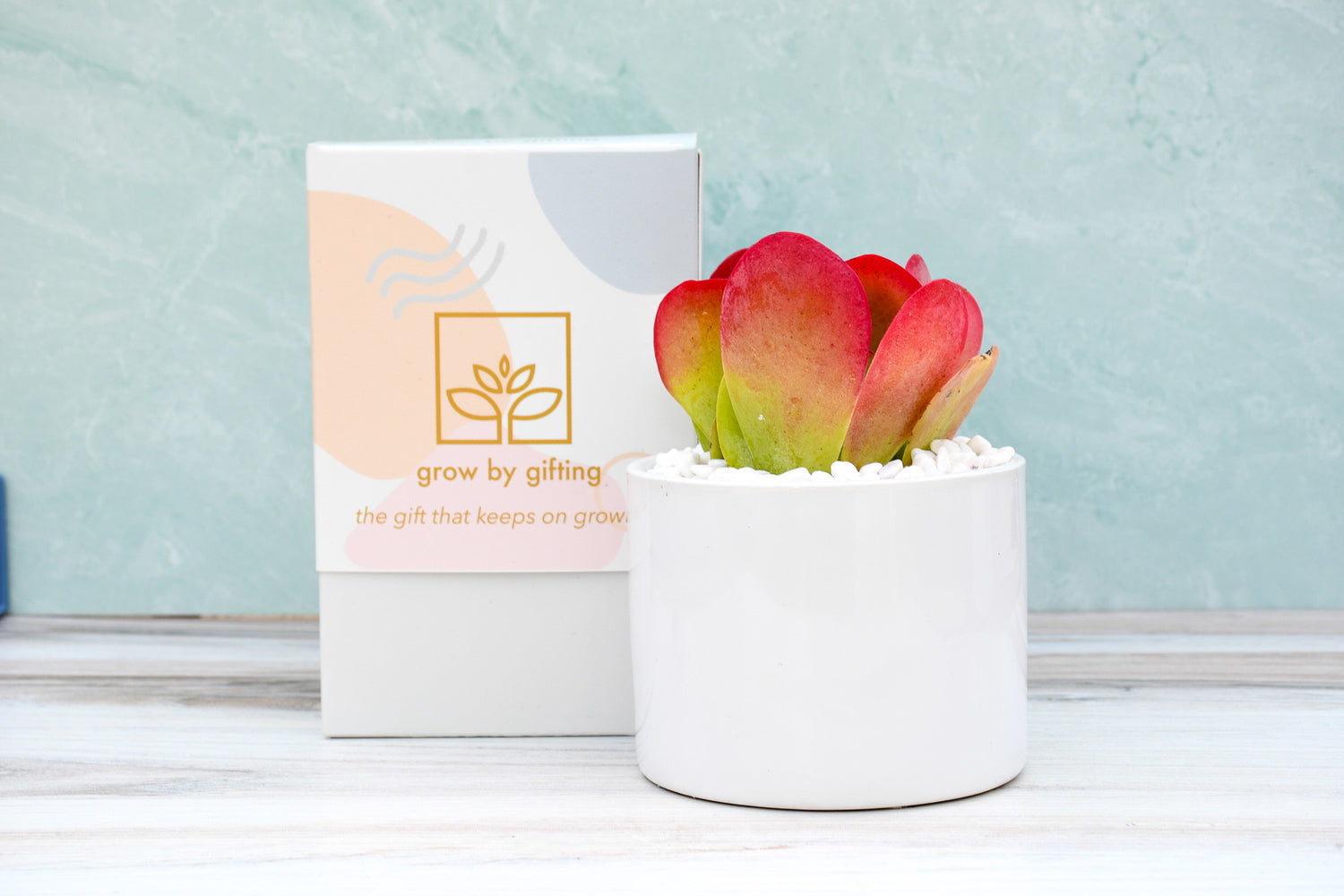 When reaching out to prospective clients one of the best ways to show a more personal connection is with corporate gifting. Not only does this lay the foundation for a positive and fruitful relationship but it allows you to showcase the mission of your company in a clear yet personable way.
Accelerate Closings 
Grow by Gifting will help you significantly cut down the amount of time and money that you spend attempting to close accounts with our unique and customizable gifts that are sure to make you stand out. With 50 years of experience growing cacti and succulents, we have developed a system that allows you to customize your packaging and send a personal message to clients with total confidence that the gifts will always arrive in perfect condition. We have found that by sending a succulent to a client you can generate 400% return on investment from your gift campaign! You will have the opportunity to work with our designer to customize the packaging of your gift in a way that truly displays your values and story. You can even create a custom message to target each individual client and show how your company will help them grow. Sending a succulent business gift shows a prospective client that you value them and they are important to you, which will encourage them to give your company their business.
Create a Personal Connection 
When reaching out to clients, sending a gift and following up is a proven method that will help to create genuine relationships. Target accounts with a set of expectations for your sales team and send a succulent to book 30% more meetings and earn the trust of account managers throughout the globe. Using a personalized message will show clients that you understand their needs and concerns. We recommend picking out a plant that you believe will resonate with a customer and then sending it to them along with a note thanking them for their commitment 60 days before their renewal. 
Increase Attendance for Virtual Events
When it comes to hosting events for potential customers, one way to increase engagement with your audience is by sending them a personal gift beforehand. By simply adding a note saying "we are looking forward to seeing you for our upcoming event" we have seen increases of webinar registrations from 30-40%. Not only can Grow by Gifting help to increase attendance for events but we can help to increase your response rate by providing cacti and succulents for a personal and unique follow up. Forming a connection with customers is essential, and by sending a gift after a virtual event, your response rate can up by 40-50% and the number of opportunities available is 25% higher than without gifting. A very memorable and beautifully packaged succulent will help to keep customers thinking about what you can do for them even days after your event, and ensure that you are laying the foundation for a long lasting relationship with them. 
A Tried and Tested Method
Business leaders all over the world have expressed the importance of business gifts in bringing people closer together. By choosing Grow by Gifting you are not only making an investment in your brand and its memorability, but paving the way genuine relationships that will ultimately enhance any sales marketing strategies that you are developing.